Barbados is a captivating travel destination that offers a perfect combination of stunning beaches, vibrant culture, and rich history. Located in the Caribbean, this tropical paradise entices visitors with its crystal-clear turquoise waters, white sandy beaches, and year-round pleasant climate. From the bustling capital city of Bridgetown to the charming coastal towns, Barbados has something to offer for every traveler. Explore the UNESCO World Heritage Site of Historic Bridgetown and its Garrison, indulge in water sports like snorkeling and diving, or simply unwind on the idyllic beaches. Immerse yourself in the local culture through lively festivals, delicious cuisine, and traditional music like calypso and reggae. With its warm hospitality and picturesque landscapes, Barbados is a dream destination for those seeking relaxation, adventure, and cultural experiences.
Traveling to Barbados: A Tropical Paradise
Barbados, with its pristine beaches, vibrant culture, and rich history, is a gem of the Caribbean. This beautiful island offers travelers a perfect blend of relaxation, adventure, and exploration. Whether you're a beach enthusiast, a history buff, or a foodie, Barbados has something to offer for everyone.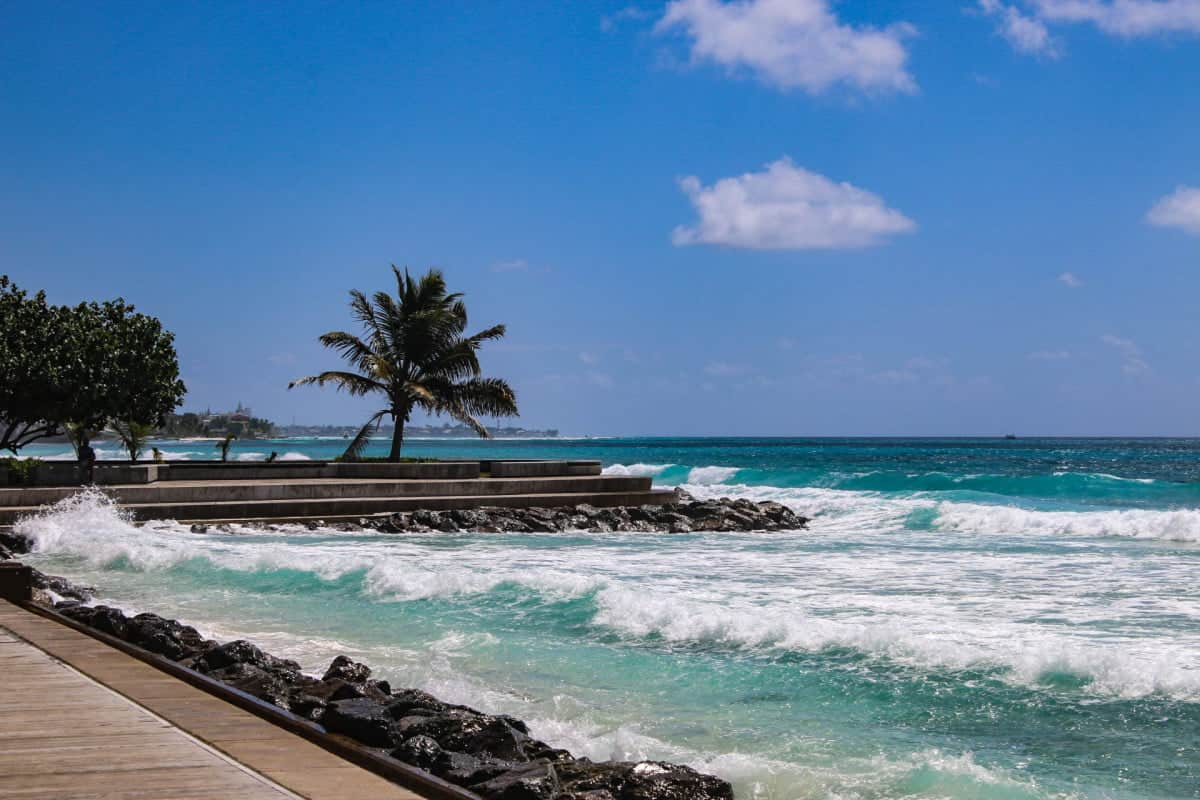 Barbados is renowned for its stunning coastline and crystal-clear waters. The island boasts an array of beaches, each with its own unique charm. From the lively and bustling beaches on the south coast to the tranquil and secluded coves on the west coast, there's a beach for every mood.
Water activities are plentiful in Barbados, with opportunities for snorkeling, scuba diving, jet-skiing, and sailing. The warm Caribbean waters provide the perfect setting for water sports enthusiasts and beach lovers alike.
The island's rich history and vibrant culture make it a captivating destination for travelers interested in immersing themselves in local traditions. Visitors can explore historic sites such as St. Nicholas Abbey, a beautifully preserved plantation house, or take a tour of Bridgetown, the capital city, which is a UNESCO World Heritage site.
The Bajan culture is reflected in the island's music, dance, and cuisine. Don't miss the chance to experience a lively calypso or reggae performance, indulge in delicious local dishes like flying fish and cou-cou, and mingle with friendly locals at one of the island's many festivals and events.
For those seeking adventure and natural beauty, Barbados has plenty to offer. Hiking enthusiasts can explore the rugged terrain of the Scotland District or take a leisurely stroll through the Andromeda Botanic Gardens. Animal lovers can visit the Barbados Wildlife Reserve to see green monkeys and other exotic wildlife in their natural habitat.
The island also boasts underground caves, such as Harrison's Cave, where visitors can marvel at stunning stalactites and stalagmites, and take an underground tram tour through the cavernous chambers.
Barbados is a tropical paradise that beckons travelers with its warm hospitality, breathtaking landscapes, and diverse range of experiences. Whether you're seeking relaxation on the beach, cultural immersion, or thrilling adventures, Barbados has it all. With its sunny climate and welcoming atmosphere, it's no wonder that Barbados is a beloved destination for travelers from around the world. Pack your bags and get ready to embark on an unforgettable journey to this Caribbean paradise!
Barbados is an island country in the Caribbean region.
It was initially inhabited by the indigenous Arawak and Carib peoples.
The island was first visited by the Portuguese explorer Pedro a Campos in 1536.
In 1625, English settlers arrived and established the first permanent settlement.
Barbados became a British colony in 1627 and remained under British rule for over 300 years.
The island played a significant role in the Atlantic slave trade, with enslaved Africans being brought to work on sugar plantations.
Barbados was a major producer of sugar and rum during the colonial period.
The island experienced several uprisings and rebellions by enslaved people, including the Bussa Rebellion in 1816.
In 1966, Barbados gained independence from Britain and became a sovereign nation within the Commonwealth.
Since independence, Barbados has developed into a stable democracy with a diverse economy, including tourism, manufacturing, and offshore financial services.
Best Time to Visit Puerto Barbados
The best time to visit Barbados is during the dry season, which typically runs from December to April. During this time, you can expect sunny weather with lower chances of rain. The temperatures are also pleasant, ranging from the mid-70s to the high 80s Fahrenheit (mid-20s to low 30s Celsius). However, it's important to note that Barbados is a popular tourist destination, so expect higher prices and larger crowds during this peak season.
Must Do and See in Barbados
Visit the stunning beaches like Crane Beach, Accra Beach, and Bottom Bay Beach.
Explore Harrison's Cave and its impressive underground formations.
Take a tour of the Mount Gay Rum Distillery and learn about the island's rum-making heritage.
Discover the historic Bridgetown and its UNESCO World Heritage-listed sites.
Enjoy water activities like snorkeling, diving, and sailing in the crystal-clear waters.
Visit the Animal Flower Cave to see its natural rock pools and breathtaking coastal views.
Explore the Barbados Wildlife Reserve and see various animals like green monkeys and turtles.
Take a catamaran cruise along the coast and enjoy swimming with turtles.
Visit the Barbados Museum to learn about the island's history and culture.
Experience the vibrant nightlife in St. Lawrence Gap with its bars, restaurants, and live music.
Things you should avoid doing in  Barbados
Do not disrespect the local culture or traditions. Be respectful of the customs and traditions of the Barbadian people.

Do not litter. Keep the beaches and public areas clean by disposing of your trash properly.

Do not engage in illegal activities. Respect the laws of Barbados and avoid any illegal activities such as drug use or trafficking.

Do not ignore beach safety guidelines. Follow the instructions of lifeguards and be aware of any warning signs or flags indicating dangerous conditions.

Do not underestimate the power of the sun. Barbados has a tropical climate, so make sure to protect yourself from the sun by wearing sunscreen, a hat, and staying hydrated.

Do not forget to try the local cuisine. Barbados is known for its delicious food, so make sure to indulge in the local dishes and flavors.

Do not leave valuables unattended. Keep your belongings secure to avoid theft or loss.

Do not disrespect the marine life. When snorkeling or diving, do not touch or disturb the coral reefs or marine animals.

Do not drink and drive. Just like in any other place, it is illegal and dangerous to drink and drive in Barbados.

Do not forget to have fun and enjoy your time in Barbados responsibly!
This post may contain affiliate links which means I may receive a commission for purchases made through links. I will only recommend products that I have personally used! Learn more on my Private Policy page.