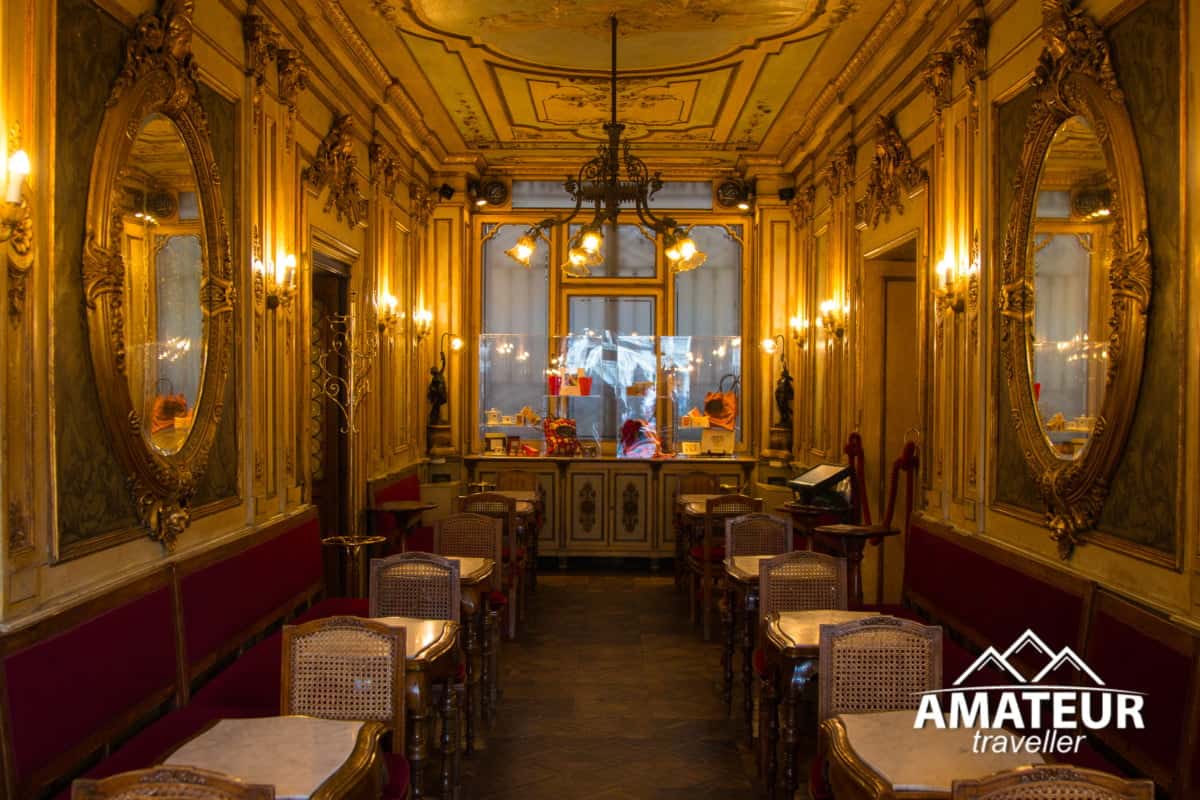 The previous year, I had visited Venice, and had left the touring site to my travel companion.  She read that Cafe Florian was the number 1 coffee destination in Venice, but number 2 was equally as good.  This year, I had decided to visit number 1. I was forewarned that Cafe Florian is a little on the expensive site.  That didn't matter.  For years, I have always been on the hunt for the perfect Cafe Latte and price really was no object.  We snuggle up to a window seat, as the waiter drops 2 menus and an information sheet.  The sheet describes the musical quartet playing outside, and the concert they are presenting.  It also mentions that there is an extra charge while enjoying the music from this table. I didn't care.  I wanted to try the number 1 coffee and not feel pressured to find another seat where I could not hear the music. We ordered a 
Café Crème, a Macchiato and a Tiramisu.  The presentation was really nice (see photo below).  Already I knew that I would not mind paying the price.  I grabbed my coffee, sweetened it mildly and took a sip.  I had to pause for a second.  "I think I found it"  I uttered to my friend.  "I think I found my favorite coffee to date".  My travel partner picked up his, and also exclaimed that this concoction was not only perfect, it was perfectly balanced.  
While I am constantly on the hunt for the perfect coffee, I think it will be difficult from this point forward.  How can you top the number one Venetian cafe, in Italy!  Really! Be prepared to fork out as much as I did (over $45 Canadian).  I am not saying you should, but what I am saying is you are paying for the experience.  One that I know will not soon forget.  Check out Caffè Florian in Piazza San Marco.  I love this place. Have you been?  Tell me what you thing.
This post may contain affiliate links which means I may receive a commission for purchases made through links. I will only recommend products that I have personally used! Learn more on my Private Policy page.