The home of Vallarta's best international talent.
The Palm may be able to claim the title of being the first cabaret style show venue in Puerto Vallarta.  Nestle in old town (Zona Romantico) at the corner of Olas Altas and Rudolfo Gomez.  The Cabaret is made up of two shops, The Palm itself and Backstage, right next door.  You can't miss this place, as the box office is actually the outside entrance.  Across the sidewalk, a comfy seating area.
The venue puts on shows twice daily, sometimes adding an afternoon.  The shows consists of everything from unique interest,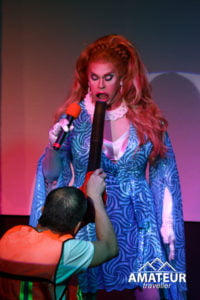 such as mentalists/magicians to outstanding female impersonation, singing and comedy.  Puerto Vallarta is well known for its gay clientelle, and drag performances are a staple in this city.  This last season, I was fortunate to experience Varla Jean Merman, Simply Barbra, and Miss Conception.  Three acts all different in so many ways.  Yes they were drag artists, but each offering a completely different show.  Varla Jean is an international hit, as she travels worldwide with her hilarious show. She has quite a strong Youtube presence, with followers into the thousands.  Her show is general a journey through her life, talking about her needs on stage, her discoveries, and her projects.  One act that strikes me the funniest is her opening where she compares herself to Beyonce and needs a hair fan.  I won't spoil it for you, but trust me, you'll be laughing.  Simply Barbra is also an international hit as she travels with her pianist to perform Barbra Streisand tunes.  Now at first, he/she does not look like Barbra, (although on the poster he does)  but after a few minutes of listening, you swear you are listening to the real thing, even down to the New York accent.  Finally, there is Miss Conception.  Kevin Levesque has been performing at The Palm for over 5 years.  His brand is almost like a magic show, however, its not.  His sell-out performances take you on a different journey each year.
Previous shows were titled The Wonderful World of Miss Conception, Miss Conception Goes to the Movies, and this last season, The Immaculate Miss Conception.  The titles speak for themselves however the last one is a greatest hits compilation.  The magic happens throughout the entire show, an again, with no spoilers, it's all in the costume changes.  All three shows regularly boast standing ovations, and depending on your tastes, all three are a good choice.
The Palm is also home to some amazing vocalists.  As I mentioned, Amy Armstrong is currently the Artistic Director, but she also possesses in talent in singing and comedy.  Amy has been performing at The Palm since its beginning.  She helped get the ball rolling.  Amy also has and international audience, and at the time of this post, is travelling on a Brand G vacations cruise from Prague to Budapest.  Her main talent in my opinion, is her ability to connect to her audience. Twenty minutes into her show, it seems the entire audience is her friend.  Her latest show, "Muy Caliente" starts off with an energetic version of "Hot, Hot, Hot."  The audience is already clapping along.  After each number, Amy talks about her experiences, be it in Puerto Vallarta, people she has met or things she has done.  It's an incredibly funny show, but her vocals are stellar.  I compare the
show to Adele meets Robin Williams. Kim Kuzma is another regular at The Palm Caberet, another vocal powerhouse that started it all in Puerto Vallarta.  Kim, a Canadian, has several albums on Itunes and has reached Number 1 on the indie charts. Kim, has teamed up with an amazing 4 piece acoustic band named "Piel Canela"  This band is made up of some of Mexico's best guitar/bass/percussion players in all of Mexico.  This band is tight.  Kim has no problem in showing her love for these guys, as the compliment each other with precision and trust.  Kim's music style ranges from heart wrenching ballads, to get off your feet disco.  Her favourites include Celine Dion, Doobie Brothers, and Abba.  It's quite amazing to watch her flirt with the audience as she picks up her tamborine.  There is a bit of comedy between her and her band members.  All in all, Miss Conception, Amy Armstrong and Kim Kuzma make up the backbone of The Palm and will continue in 2018.
The Palm Cabaret continues to raise the bar on talent, and many performers are hoping to get a spot in this comfortable, non pretentious cabaret venue.  With talents from all over the world, its a good idea to keep an eye on The Palm's website for upcoming surprises.  Last year has been marked with an upscale success, and will certainly not dissappoint in 2018.  Check it out, as there is something for everyone.